The preposterous bull of Purple Labour is under fire….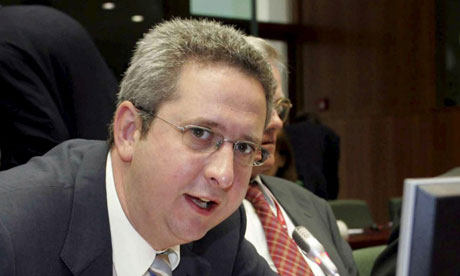 Ivan Lewis, the shadow culture secretary, has written a chapter on re-engaging communities with politics for the Purple Book. Photograph: Francois Walschaerts/EPA
A book offering ideas for Labour's future direction has caused a savage split in the party, with one senior figure accusing its detractors of employing the tactics of Damian McBride, an adviser to Gordon Brown who was forced to resign after his underhand behaviour was revealed.
The Purple Book, which includes a chapter by Ivan Lewis, the shadow culture secretary, on re-engaging communities with politics – regarded as Blairite in approach – was described by opponents in anonymous briefings published yesterday as "lazy" and "idiotic". However, supporters of the book, which has been written as a response to Lord Glasman's Blue Labour ideas, a philosophy said to be an inspiration to party leaderEd Miliband, hit back last night, claiming the attacks were reminiscent of McBride's actions.
A senior figure in the Labour party told the Observer that while Miliband and those around him had previously called for the party to re-engage with ideas and let a thousand flowers bloom, "it would seem some people don't want a thousand flowers to bloom, hence this Damian McBride-style briefing".
He added: "This hasn't been the hallmark of Ed Miliband's operation and he has put great store in removing himself from this kind of thing." That was why, he said, the latest briefing had "caused a great deal of alarm".
The split comes in the run-up to the party conference, where tensions now seem set to become public. There are concerns within the Blairite wing that Miliband has moved himself too far towards the ideas of Glasman, who claims the party needs to re-engage with traditional working-class issues such as the family and patriotism. Miliband announced on taking leadership of the party that the era of New Labour was dead. While the Labour leader has managed to reassert his authority over the party in the wake of the phone hacking scandal, during which he was an impressive performer, the are continuing doubts about whether he has the ability to win a general election.
Last night shadow transport minister, John Woodcock, posted a message on Twitter, saying: "Shame 2 c anon hatchet job on Purple Book in Times, partic when so few've had chance to read it. Ed's clear we've moved on from this approach."
http://www.guardian.co.uk/politics/2011/sep/10/labour-anger-over-purple-book