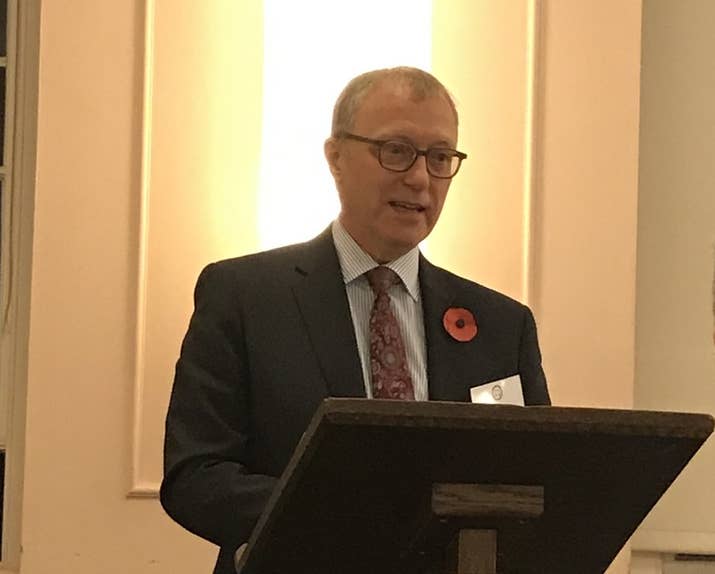 By Emily Dugan
https://www.buzzfeed.com/emilydugan/most-dwp-benefits-cases-which-reach-court-are-based-on-bad?utm_term=.vdNwjXxjE6&ref=mobile_share#.rlzN1aX1Ar
Britain's most senior tribunal judge says most of the benefits cases that reach court are based on bad decisions where the Department for Work and Pensions has no case at all.
Sir Ernest Ryder, senior president of tribunals, also said the quality of evidence provided by the DWP is so poor it would be "wholly inadmissible" in any other court.
Speaking at a Bar Council event attended by BuzzFeed News this week, Ryder said his judges found that 60% of cases were "no-brainers" where there was nothing in the law or facts that would make the DWP win.
In an extraordinary outburst against what he said was the incompetence of the department, he said he and his fellow judges were so incensed by the volume of cases where there was "no justiciable defence to the appeal" that they were considering sending them back – or charging the DWP for the cases it loses.
He said: "It's an inappropriate use of judicial resources, it's an inappropriate experience for the users, and the cost is simply not right."
The percentage of cases lost by the DWP on appeal has been growing rapidly. In 2007, 44% of cases heard in the Social Security and Child Support tribunal went against the DWP. Ryder said the figures have now risen to a "staggering" 61%.
He said this was because in most instances the DWP simply had no case at all. "Just as an experiment in Leeds, my judges used their lunch hour to take the wall of paper files and go through them to see what the percentage of no-brainers might be," Ryder said. "That is, [ones where] there could be no argument in law or on facts that the appellant wouldn't win. It was spot-on 60%."
When appealing a decision on benefits you first have to go through mandatory reconsideration (MR), where you ask the department to look again at your case. Only then can you take it to tribunal and appeal it.
Ryder said this process was not preventing the DWP from taking huge numbers of cases through court that shouldn't be there.
"In case management I could send back those cases to the DWP and say, 'You might as well remake them, because there is no argument that a tribunal could hear. There's no justiciable defence to the appeal.' Why don't I? That's the argument we're thinking about long and hard, because the appellant doesn't lose anything."
Benefits assessments have been mired in controversy since being outsourced to private companies who are encouraged to cut claimants. Ryder said the situation was putting people who had been wrongly assessed for benefits through unnecessary stress and wasting judges' time.
He said claimants were needlessly put through "the stress of that day when actually at the end of the day (though they can't know it) they're bound to win".
Commenting on the poor quality of the DWP's evidence, he said that after sitting in on one tribunal for a day, not one of the cases he saw had an assessment that was dated, named, or signed.
Ryder said the court typically did not "even know what the professional qualification or registration number was of the author". He said this meant "in expert evidence terms in any other organisation you and I know of, it would be wholly inadmissible.
"And yet we are expected to take those documents, some of which are amended and we only know they're amended by the computer line at the bottom but we don't know by whom or in what circumstances, we're expected to take that and rely upon it as our primary evidence before the court starts to ask questions and come to determination.
"So it's hardly surprising if that's the quality of the base product that's relied on, for example, where it's a telephone assessment that leads to it, that you then find when you look at the wall, 60% of it is a no-brainer. On a long-term basis that just can't be right."
A retired judge, Sir Henry Brooke, also spoke about the challenges faced by people representing themselves when appealing a decision about the personal independence payment (PIP), a disability benefit. Speaking at the same Bar Council event on Tuesday night, entitled "The Citizen and The State – poor decision-making and the role of the pro bono Bar," Brooke said legal aid cuts meant the need for help to appeal PIP decisions was "colossal."
He said: "What help is there for PIP appeals? All forms of legal aid for this work were axed four years ago. Pro bono support is trying to take its place, but with PIP appeals now running at 100,000 a year, the need is colossal."
Brooke said: "A lot of [the appeals] result from rank bad decision-making, which was not spotted at the MR stage, or from papers getting mislaid.
"In any event case research shows that unrepresented appellants are nearly always at a disadvantage. If more could be done to improve the quality of decision-making at DWP level, a great deal of expense and stress and needless delay could be avoided."
Complaints about the PIP assessment process rose by almost 880% last year. The government announced last week it would be changing the assessment process to take into account whether someone can carry out activities safely without supervision. It follows an upper tribunal judgment against DWP and means people with conditions such as epilepsy are now likely to receive a higher rate of support.
Brooke said one former benefits adviser at a Citizens Advice office that has now closed told him that he had succeeded in all the dozens of appeals he had helped people with.
He described the adviser as telling him: "This wasn't because I was some sort of super advocate, but because the decision-making was so bad; medical evidence from the practitioners actually treating the client was usually ignored or marginalised, in favour of 'assessments' by a disability assessor, who was usually a nurse with no specialist knowledge of the client's condition, but who had undertaken a short course on assessing disabilities and had examined the client for 30 minutes."
Brooke told the story of Alice (not her real name), a 54-year old widow he had spoken to with a degenerative eye disease who was registered blind 30 years ago and has profound hearing loss. He said she had "no difficulty" getting disability living allowance at the right rate, but that when applying for PIP she had much more trouble".
"She had to fill in a 56-page form, which she found very difficult," he said. "She also produced doctors' notes. These included a letter from a professor at Moorfields Eye Hospital which described her eye condition in detail.
"When the assessor called at her home, it was obvious that she had not read any of the doctors' notes. She set up an eye chart without realising that Alice could not even see the chart, let alone the letters on it."
He added: "Although she cannot see, she was only awarded a standard rate mobility allowance. The 10-page decision letter contained only one paragraph setting out the reasons. This was in completely generic terms."
Brooke said that when Alice applied for mandatory reconsideration her daughter called the DWP and the man she spoke to was "so shocked he suggested that Alice hadn't produced any evidence about her blindness".
"When he was told that there was a letter from the top retinal specialist at Moorfields which explained everything, he said: 'We don't look at NHS letters because anybody can make them up.' He then asked Alice to send him the certificate which stated that she was registered blind. Somehow she managed to find it – it was 30 years old – and she was then upgraded to enhanced rate mobility in double-quick time."
A DWP spokesperson said: "The fact is a very small minority of our cases are appealed and then go to a tribunal. For example, more than 2.4 million PIP decisions have been made, and of these 8% have been appealed and 4% have been overturned. The majority of successful appeals are overturned because people have submitted more written or oral evidence."
However, this data does not include mandatory reconsiderations, which can mean that a DWP decision is overturned before an appeal is necessary. Around 20% of cases are put forward for MR.
The spokesperson added: "We strive to maintain the highest standards, and that's reflective in the recent Independent Case Examiner's report which showed only 0.3% of people who've made direct contact with us made a complaint."