'While this has seen a concurrent growth in fraud in cash terms, the level of fraud as a proportion of the size of the benefits bill has actually remained fairly constant between 0.6% and 0.8% in the past five years, and actually fell in the most recent year'
21 January, 2013 – 18:17 — Owen Spottiswoode
While international stories dominated the weekend front pages, the sums of money available to benefits claimants remained the hot domestic topic, and two Sunday papers added more fuel to the fire by claiming yesterday that "new figures" show that fraud in the welfare system has hit a record high.
The Sun on Sunday wrote that "false claims hit a record £5.3billion" while the Sunday Express warned that a new taskforce would leave "no stone unturned" as it cracked down on benefits cheats.
However where do these "new figures" come from?
We got in touch with the papers to ask if they could provide any more information, although as yet neither has been forthcoming. So what can we tell from the information that is publicly available?
A closer reading of both articles reveals that the £5.3 billion figure refers to the amount supposedly claimed fraudulently over a period of five years.
The first port of call for figures on benefit fraud is usually the DWP's series 'Fraud and Error in the Benefit System' and using this we can take a look at the value of the fraud detected by the Department over the past half a decade.
These figures aren't exactly new – the final revised estimates were published last month, while provisional figures were available even earlier – but they do nevertheless provide us with some insight into the numbers quoted in the papers.
Table 3.3 of the most recent release shows that since 2007/08, the combined value of fraud is indeed estimated to be £5.3bn:

Both the Sun on Sunday and the Sunday Express report that the figures:
"reveal that cheating included £1.33 billion in housing benefit lost to fraud in the past five years. In the same period, cheats robbed the taxpayer of £610 million in JobSeekers' Allowance, £1.08 billion in Income Support and £620 million of Pension Credit."
These numbers too tally with the totals given in the accompanying DWP tables, as we can see from this graph: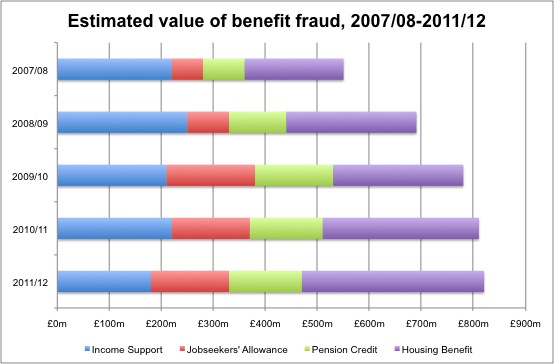 However there are questions about whether or not it is a 'record' total. Recent years have seen increases to the sums paid out through the welfare system, as well as an increase in claimants following the two periods of recession.
While this has seen a concurrent growth in fraud in cash terms, the level of fraud as a proportion of the size of the benefits bill has actually remained fairly constant between 0.6% and 0.8% in the past five years, and actually fell in the most recent year.
FULL FACT