The Huffington Post UK  |  By Felicity Morse Posted: 31/08/2012 17:31 Updated: 31/08/2012 19:11
Scuffles broke out between police and protesters outside the Department for Work and Pensions in London after disability rights and anti-cuts campaigners blockaded the entrance and chained themselves to the building on Friday.
Campaigning group UK Uncut told the Huffington Post UK that clashes broke out when around 12 activists, both able-bodied and disabled, locked themselves to the building with chains.
According to a UK Uncut spokesperson, police pushing through the demonstration accidentally knocked over a protester in a wheelchair.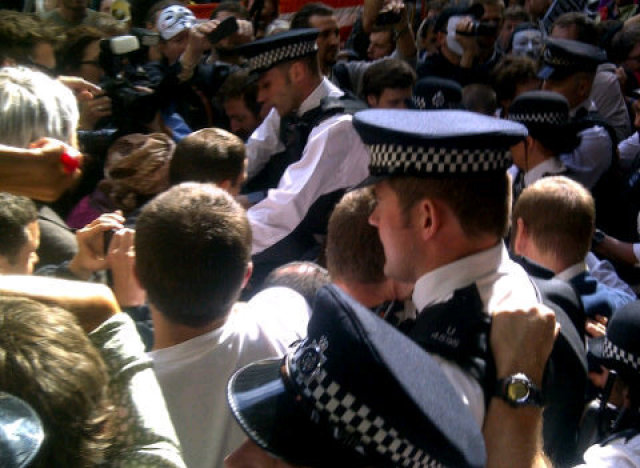 Met Police and protesters clashed outside the Department of Work and Pensions
A Met Police spokesperson said no arrests have been made, however Disabled People Against Cuts (DPAC) said in a statement that one person was "tipped out of their wheelchair, another was hospitalised with a fractured shoulder and one was arrested."
Following the altercation, the Met Police tweeted for whoever is in charge at DPAC to come forward to "facilitate peaceful protest".
@MetPoliceEvents
Metropolitan Police
#DPAC
 Protest at 
#DWP
 whoever is in charge speak to police so we can facilitate peaceful protest and attend to any needs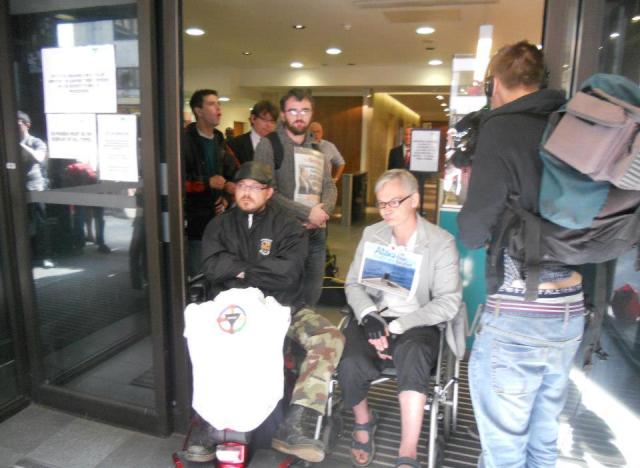 Some of the protesters chained themselves to the building
Disabled People Against Cuts (DPAC) and UK Uncut, who organised the protest, are campaigning against the DWP contract with French company Atos, who provide a "work capability assessment" for the government department.
@HeardinLondon
HeardinLondon
As they are making decisions for the government, I suggest we should get to decide whether 
#ATOS
 themselves are fit for work.
MORE ON DISABILITY RIGHTS:

Government Accused Of 'Hypocrisy' Towards Disabled People

Austerity In The United Kingdom Leaves Disabled In Fear For Their Lives
Activists claim their clampdown on benefits claimants is simply a money-saving exercise and that many disabled people are having their benefits cut wrongfully on the basis of the Atos test. They claim this is forcing disabled people to live in poverty and in some cases driving them to take their own life. Campaigners have staged a week long protest against Atos, who carry out a "fit to work" assessment upon which the DWP decide whether benefits claimants should have their disability allowance docked
Campaigners accused the government of hypocrisy after it was revealed that Atos would be sponsoring the Paralympic Games.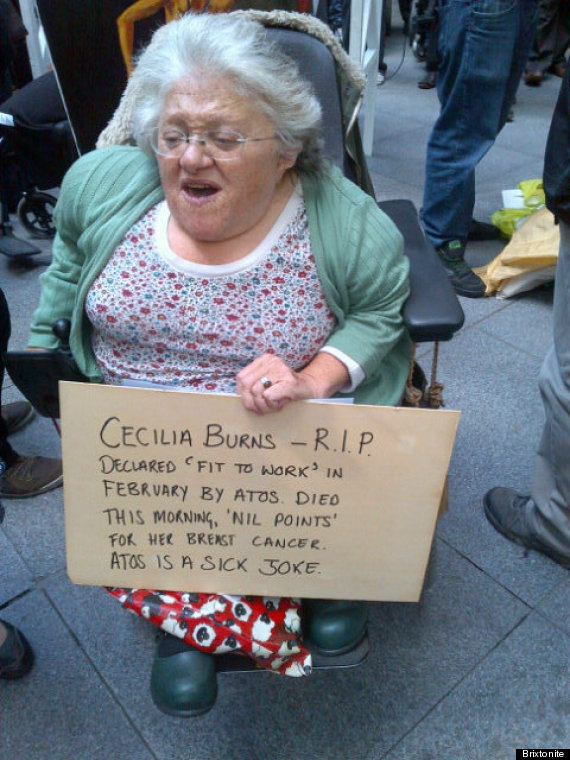 A protester carried a placard campaigning on behalf of Cecilia Burns, who died earlier this week. She had campaigned against Atos after having her benefits cut in February
The week-long protest moved from outside Atos HQ to the DWP on Friday after campaigners heard that a number of protesters had blockaded the entrance.
Protesters carried signs and placards emblazoned with angry slogans. One read: "The government don't give atos" while another read: "32 deaths a week after being found 'fit for work".
A red piece of cloth was lain out on the floor outside Caxton House, where the DWP is based. A protester had written: "The mark of a civilised society is how it treats its most vulnerable members." Another read: "Atos can kiss my aspergers!"
A spokesperson for the DWP confirmed that there was a protest going and that a small number of people had entered the building.
Later on Friday performers from the Paralympics Opening Ceremony are expected to join the campaigners for
'The Closing Atos Ceremony'
Former Paralympic gold medallist and still the world record-holder for the 50 metres breaststroke, Tara Flood said:
"It is a shocking irony that Atos is a main sponsor of London 2012 whilst destroying disabled people's lives on behalf of the government."

Some of the scuffles filmed by protesters on Friday
A government spokesperson said: "LOCOG and the International Paralympic Committee make all decisions on sponsorship for the Paralympics. All the partners provide vital funding without which the Games would not happen and they operate within the supplier guidelines.
"It's disappointing that a small number of organisations are protesting against sponsorship of the Paralympic Games, which is an opportunity to showcase the talents of disabled people and act as a catalyst for our sporting talents of the future."
Lord Coe was forced to defend Atos's sponsorship of the Paralympics earlier on Friday. He told the BBC: "They're partners and they help us to deliver this… Their work goes way beyond any of that visibility."